Equine Psychology Specialist
Tailored horse behaviour solutions for happier horses, and their humans
Equine Psychology Specialist
Looking for help with your horse's behaviour?
I understand that facing a challenge with your horse can be very distressing. Knowing where to turn for the right advice for your individual horse can be confusing.
As a professionally qualified, registered and insured Equine Psychology Specialist I can help. By practically applying the science of equine behaviour, ethology and learning theory, I will help you to more fully understand your horse. I love supporting people to enjoy safer, wiser and happier partnerships with their beloved horses.
Unwanted horse behaviour can develop at any time, for a multiplicity of reasons. Whether you are a novice or experienced horse owner, if concerned about any handling or ridden challenge I can help.
Take a look at unwanted horse behaviour [HERE] I can help you address
"If ever I have an issue with any of the horses or ponies Sarah would be the first person I would contact for help. I could not recommend her more highly."
"Danny our naughty Shetland is a changed character. A huge thank you Sarah for the techniques which I never realised could have such a powerful influence over our relationship with horses"
"I simply cannot rate Sarah highly enough. What she has done for me and Goldie is truly amazing. Sarah understands how to achieve the best results possible and what each horse will be most responsive with. I would highly recommend Sarah for any issue! Thank you Sarah!"
"I am so grateful to Sarah for kindly supporting us to help Mojo overcome her fear. Sarah is professional and knowledgeable and I cannot recommend her highly enough."
Read more from Happy Clients [HERE]
What do I offer?
I focus on the inside not just the outside of the horse! I'll offer you insights into your horse's internal thinking and emotions, which reflect outwardly in their behaviour. This will enable you to go on to enjoy more harmonious and successful times together.
I can help you safely and positively . . .
 – Resolve challenging behaviour
– Enhance understanding of your Equine friend
– Develop harmonious communication and your bond with your horse
– Build confidence in handling and ridden situations
– Achieve rewarding results together
How else may I help you? Check all my Services [HERE] 
Getting the right advice
To every problem there is a solution! Every horse is individual, so all aspects of their environment, management and training will be taken into account. I will explain WHY the behaviour is happening, offer immediate advice and support you to address things in only a kind and positive way.
You'll gain a better understanding of your horse and as a result feel empowered to make informed choices, and more confidently able to manage in any handling or ridden situation.
Based on Essex/Suffolk/Cambs border I cover neighbouring counties and beyond (including overseas).
Check out my most loved short film!
Coming to YOU in 2022!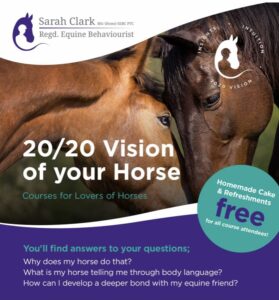 Fun and insightful day courses held at your establishment!
"We found your course so informative and enlightening! It's amazing how our horses communicate with us and your course will help us to understand them more. Thank you Sarah!"  Su and Patti
"I will forever be so grateful for the knowledge and understanding that you have shared, I have thoroughly enjoyed your fabulous course"  Pixie and Bunny
"Really really enjoyed the course Sarah. I felt completely comfortable from the practical session to the question time, and the presentation was so passionately and professionally delivered. Utterly loved it!  Hannah and Rocco
Find out more about 1-day courses (HERE)
I look forward to meeting you!