Your Consultation…
I will visit you and your horse in your own surroundings for a private consultation. I'll listen to the whole story and consider all aspects of your horse's behaviour, environment, management and training. This will help me establish any underlying causes of the unwanted behaviour.
Then observing you and your horse interacting naturally will provide me with a fuller picture, ensuring the most suitable behavioural solutions are tailored around you and your horse's life.
During the visit I'll provide you with immediate advice on how to manage the problem and create positive change in your horse.
Following the visit you'll receive a report explaining your horse's behaviour and a tailored plan to resolve it.
This will include everything you'll need to move forward positively together, whilst strengthening your connection with your horse.
For overseas clients or those looking for more of an 'immersive' learning experience, I offer 2 day Behaviour Packages including consultation, education and training. These "Behaviour Breaks" can be held at your premises or at my own, where you and your horse will be most welcome. Please [Contact] me about your requirements.
Ensuring you're on the right track…
Some challenges can be resolved in just one visit. Others may involve more of a 'process' so can take longer to
modify.
I nearly always recommend a follow up visit. This can be important to ensure you are on the right track and progressing well together. It helps ensure you fully understand your horse and are comfortable and confident with any practical training tips I offer. You may discover many new insights about your horse, which can be a lot to take on board during the initial consultation alone.
Email/telephone support is included for 12 months after any visit.
Positive training sessions
Enhance the partnership with your horse through positive training sessions…
Perhaps you are wishing to understand your equine friend better, develop harmonious communication with your horse or improve competitive performance? I can help you reach your goals by assisting in positive training sessions.
If you are a new horse owner and you would like to make sure you are doing things in the best way possible for your horse then a positive training session will be beneficial in helping you progress successfully together.
"I have found so much more harmony with my horse now I know why he does what he does. With small changes in his management and training I'm pleased to say the days of pulling my hair out are at an end…"
Fees
A consultation and tailored advice to fully address the challenge you're facing with your horse, is an investment that will last you the lifetime of your partnership.
As a qualified, registered and insured Equine Behaviour Consultant, I work alongside Veterinary Practitioners (MRCVS), Veterinary Physiotherapists (ACPAT) and Saddlers (SMSQSF) to assure you the highest level of professional attention and support.
Behaviour Consultation – £180*
This includes a full consultation (approx. 2 hours), written report explaining your horse's behaviour and advice tailored for your horse.
If required, a follow up visit can take up to 1.5 hours and I offer this at a reduced fee of £40*
Positive Training Session – £50*
These sessions are chargeable per hour
* Mileage. There is no charge for 30miles round trip. After this mileage is charged at 45p per mile, for a return journey from CO9 4BB in Essex
Reduced fees are available to registered equine charities, welfare organisations and rescue
centres.
Coming to YOU in 2022!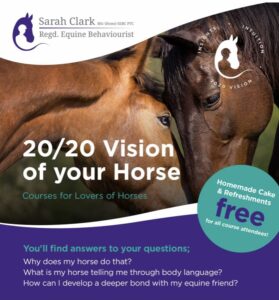 Fun and insightful day courses held at your establishment!
Course days include –
The study of natural horse behaviour (Equine Ethology) & applying this to our domestic horses
Body language & communication
How horses learn & training techniques
Course days can be provided singularly or immerse yourselves in the popular 3-day learning experience
"We found your course so informative and enlightening! It's amazing how our horses communicate with us and your course will help us to understand them more. Thank you Sarah!"  Su and Patti
"I will forever be so grateful for the knowledge and understanding that you have shared, I have thoroughly enjoyed your fabulous course"  Pixie and Bunny
"Really really enjoyed the course Sarah. I felt completely comfortable from the practical session to the question time, and the presentation was so passionately and professionally delivered. Utterly loved it!"  Hannah and Rocco
There's always something new to learn…
I'm passionate about sharing my knowledge and experience of horse behaviour to deepen other's understanding of their equine partners, which can only lead to… happier horses, and their humans
I'm available to give talks/demo's at your stable yard, pony club or professional practice
Contact me to discuss how I may assist you
I look forward to meeting you!